If you haven't been to Crystal's site, I encourage you to stop by and participate in Making Your Home a Haven Monday. I love this meme, because it always encourages me to take the extra step in making my home a place for people to gather.
Last week I worked on several house projects, but at the end of the week I realized I needed a better system to get it all done. I also needed a system to involve my kids, on a regular and consistent basis. We would spend a day cleaning, but then in a few days the house would look cluttered again because there was no system to maintain the jobs we had done.
I started to make my own charts for the kids, but then realized I also needed a chart for myself. While I strive to keep my home neat and inviting, certain jobs seem to be looked over, like watering plants and changing sheets.
I was thrilled to discover the Motivated Moms Planner. I purchased the Motivated Moms Chore Planner with Scheduled Bible Reading, but there are other options too. For each week there is a printed page detailing daily chores as well as weekly chores. You can download a sample page here. I just love this planner and it was only $4. I printed out two copies of each sheet, one for the fridge and one for my binder. For the weekly chores I put a child's initial by the chores they are to complete that day. Since they view the entire week at once, they know that on Sunday, the jobs they need to do on Thursday.
I am using this planner as well as a weekly chore chart I made for my kids detailing daily and weekly jobs. You can view my chore chart here. This is our initial chore chart for the school year. It will probably change significantly once I see how the chores and school work together.

I posted my chore chart and the Motivated Moms chart on the fridge so everyone can view the charts. Sorry the pictures are so grainy, I am not sure why. Please ignore the cool fridge magnets!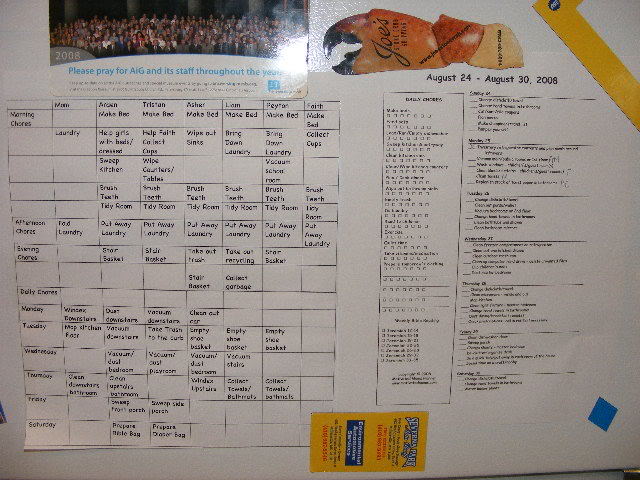 If you look closely at the Motivated Moms planner you will see I have started to put initials by each chore.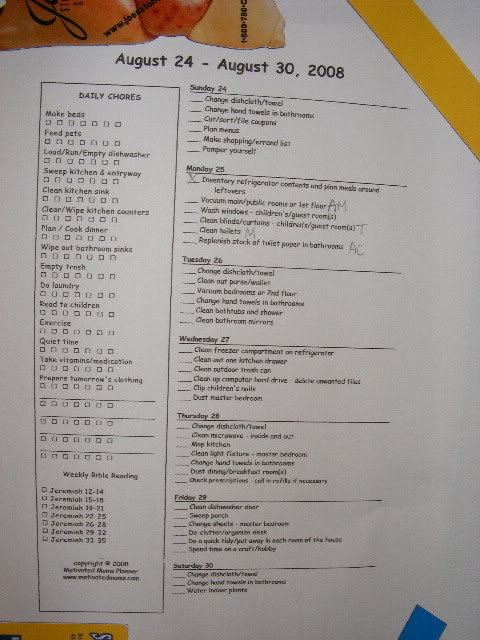 The last thing I did was make sure I worked chore time into our daily schedule. In my opinion, kids are more likely to grumble and complain about chores when they are taken by surprise. If my children know that every day at 8am and 4 pm we have chore time the attitudes improve significantly.
I am hoping that my new system will avoid a pile up of housework. For some time it has been my goal that my house would also be ready for visitors. I want my home to be a haven for anyone would chooses to visit as well as my family. Keeping up with the chores on a daily basis is the way I hope to accomplish this goal.

Don't forget to stop by the Homemakers Haven for more homemaking posts.